Health Support (IPC and Larch)
LARCH Care Home In-reach Practitioners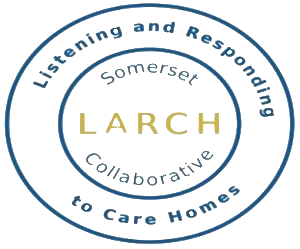 The Care Home In reach team works across Somerset, with the service divided into East and West teams, and covers all Care Homes across the county. Our teams are made up of Registered Nurses and Occupational Therapists. All are passionate about quality, high standards of care and supporting care homes. We work in a pro-active manner and respond to requests for support and assistance via the Local Authority and Clinical Commissioning Group.
The team can be contacted by email: Larch@ydh.nhs.uk
The Infection Prevention Control Team
What we offer and provide
The Infection Prevention Control team are committed to help prevent avoidable infections by providing specialist infection prevention control support and advice across Somerset. We offer:
Monthly virtual IPC drop in clinics on the 2nd Wednesday of each month. Care homes/facilities can pre-book timed slots to dial in and obtain IPC advice and support as required. Book in via team inbox.
Infection control champion programme for care homes under development. We plan to create a network of champions across Somerset to enhance and support your service in insuring that optimal infection prevention and control practices and standards are adopted and maintained within care homes.
Outbreak management support.
Education webinars covering a variety of infection prevention and control related topics.
We encourage open communication and care homes can contact us via the team inbox should they have any IPC related queries or questions.
Contact
Email: somccg.infectionpreventioncontrolteam@nhs.net
Website: www.somersetccg.nhs.uk